Org lain nak baju designer, awak pun nak jugak... Gediksnya!! Tapi perasan tak, kalau bab anak2 belanja banyak pun xpe kalu diri sendiri xpelah ngalah pakai hat murahan jek. Especially when they are babies. Dah beso2 galah mmg xleh la nak branded selalu, rabak poket mummy lgi plak ada tiga owang mau bela.
Thn ni mmg keluarga ajis anida prepare baju raya waaaau early. Actually, masa malyn bertunang tu baju raya dah siap. Tempah trus sesiap, xyah rebut nak upah jahit. Kalu dedulu dua minggu b4 raya pun smpat tempah baju but nowadays dua bulan b4 puasa dah tutup tempahan. If dulu byr rm20 as upah jahit now rm180 with lining! Tpi i got la one place yg rege dia agak munasabah skit.
Cuma bab baju melayu ku serahkan kpd suamilah utk cri tpt jahit n tempah. Bdn deme tentulah tau mana best x best. Dah antar kat this tailor that i already banned for years. Spt nama butiknya mmg ko kena byk sabarrrrr dgn taukenya. Mmg factor lokasi dejat jdi pendorong suami antar kat situ. Tpi mmg sabarrrrr je lah. Satu, tanpa ukuran lengkap suami n umar tak pasal2 depa pi potong kain tu pdahal dah suh hold dulu. Bila kena sound buat bodoh jek. Bijak bijak...
So yes... As back up to the foreseen disaster, we decided to buy yg dah siap. So happen a good friend showed me her new kids collection for raya. Projek yg akhirnya took off. Yeyy!! I think it's cute!
What do u think?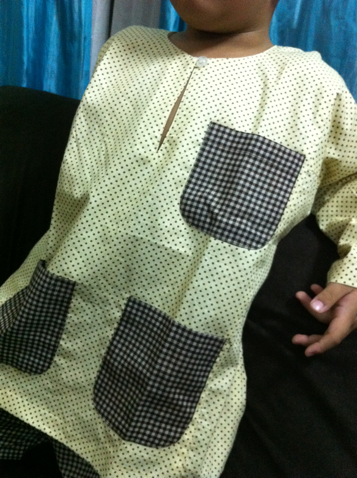 Interested? Check this
raya collection
. Heart!